What to Think About When Building a Home
The process of building a house is one of the most exciting, frustrating, and rewarding experiences that anyone can ever go through.
You get to see your dreams come to life right in front of your eyes, but as with any major construction project, building a new house can also have its share of setbacks, difficulties, and problems.
With proper planning and attention to detail, these problems can be kept to a minimum, and you can instead focus on the excitement of spending many happy years living in your dream home. We've put together a step-by-step guide full of tips to help you understand what to expect throughout the entire process.
The Process of Building a House
Home construction from start to finish is a long, drawn-out endeavor that can be broadly divided into three different stages: pre-construction, during construction, and post-construction. It pays to be organized, so here's a rough outline of the home building process.
Before You Start Construction
These are the choices you'll need to make before the day that you break ground on your new home.
Decide to Build
One of the most important parts of a new home is deciding whether or not to buy new, remodel your current home, or build a home to match your needs.
This is a big decision. Things like your budget, the value of your home, the real estate market, and your specific needs and desires are all factors that come into play.
If you decide building is for you, many people opt to hire a real estate agent to help find the perfect piece of land. The lot that you purchase will factor into the size and layout of the floor plan.
Choose a Home Plan
Next, once you've chosen to build a new home, you'll need to choose a plan. When looking for a home construction plan, it's a good idea to think about the kinds of features that drew you toward building your own home in the first place.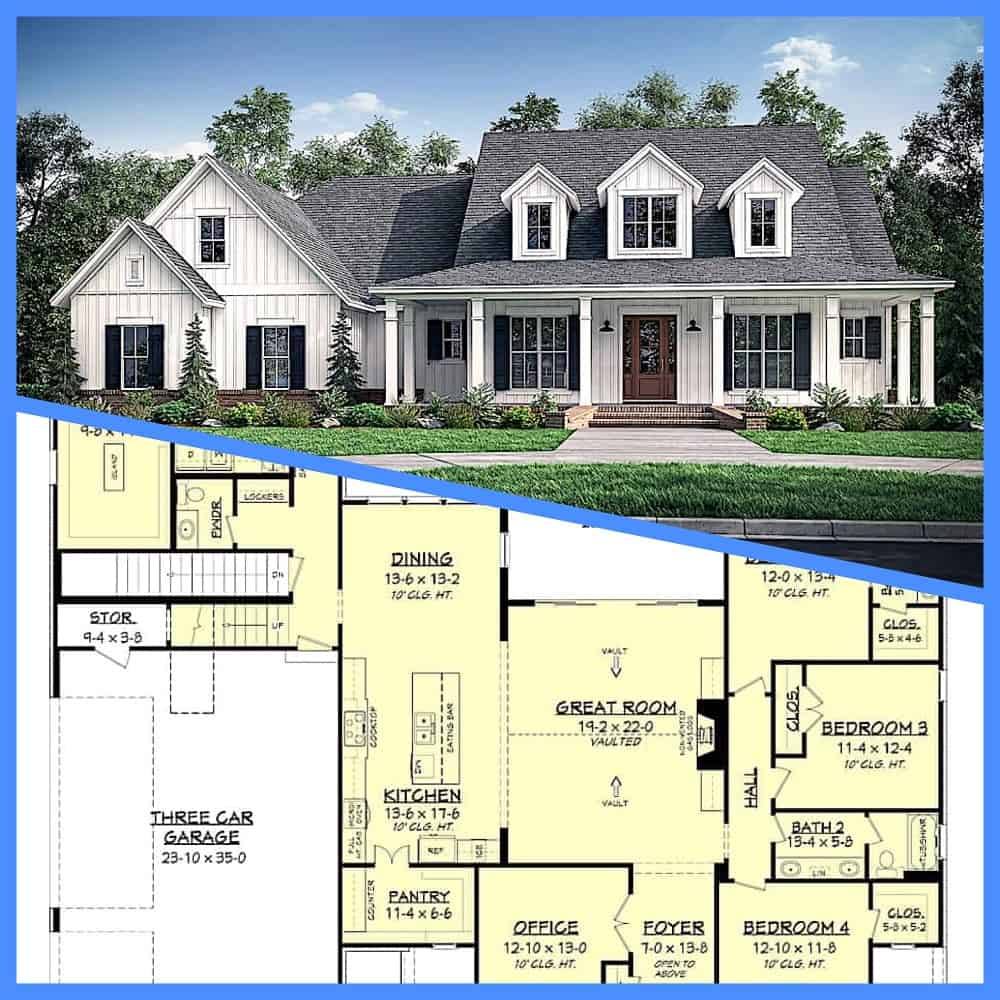 This beautiful Transitional Farmhouse style home with 4 bedrooms and 3.5 bathrooms in 2926 sq. ft. of living space is one of the designs you can choose to build from (Plan #142-1220).
Do you want a ranch style home? Or a Dutch Colonial? Or maybe a Craftsman style home instead?
Think about things like how many bedrooms you would need, whether or not you want an attached garage, the layout of your kitchen, if you want your living room to be part of an open floor plan, and how you would like to incorporate the geography of your lot into your home.
Review the cost to build report for your favorite plans to make sure you stick within your budget, and always plan for some added building costs that could pop up along the way and increase your total cost.
Modify the Plan
Usually, you're not going to be able to find a home that completely fits every single need that you have.
Because of this, you might find a plan that has most of the features you're looking for and then modify it slightly (add or subtract a fireplace, add a walk-in closet, add a modest amount of square footage, etc.). It's also important to learn how to read home plans so you fully understand the layout and what changes you'll need made.
Depending on the plan, the changes you have in mind, and the company you get it from, alternations likely come at a cost in addition to the plan price. Alternatively, you can discuss these "remodels" directly with your contractor. He or she may be able to do them on-site if they're not structural in nature.
Hire a Contractor
This is possibly the most important step of new home construction because the person you choose is going to be your go-to for all questions throughout construction. They are also in charge of helping you approve your final design choices and making sure you have a beautiful and safe home.
There are plenty of online databases for hiring independent contractors, as well as local companies that specialize in building houses. Whatever you choose, make sure that you've read plenty of reviews on their previous work, and even contact the home builder in person, prior to signing any contracts with them.
Adhere to Local Laws
This is a step of new home construction that you can partner with your contractor on. You want to make sure that you are following local laws every step of the way during construction. Because of this, you should even do your own research on acquiring building permits, gaining access to city water, building codes, etc.
Sometimes working with local governments is a tedious process, so be sure to build time for "the unexpected" into your construction timeline.
Choose Construction Materials
Choosing the construction materials for your home is another big choice to make, and it's one that shouldn't be made without the help of your contractor.
While home-building materials can be adjusted depending on personal taste and budget, there are certain structural elements that are best left to the opinion of a professional.
Make sure that you speak to your contractor about the following types of things: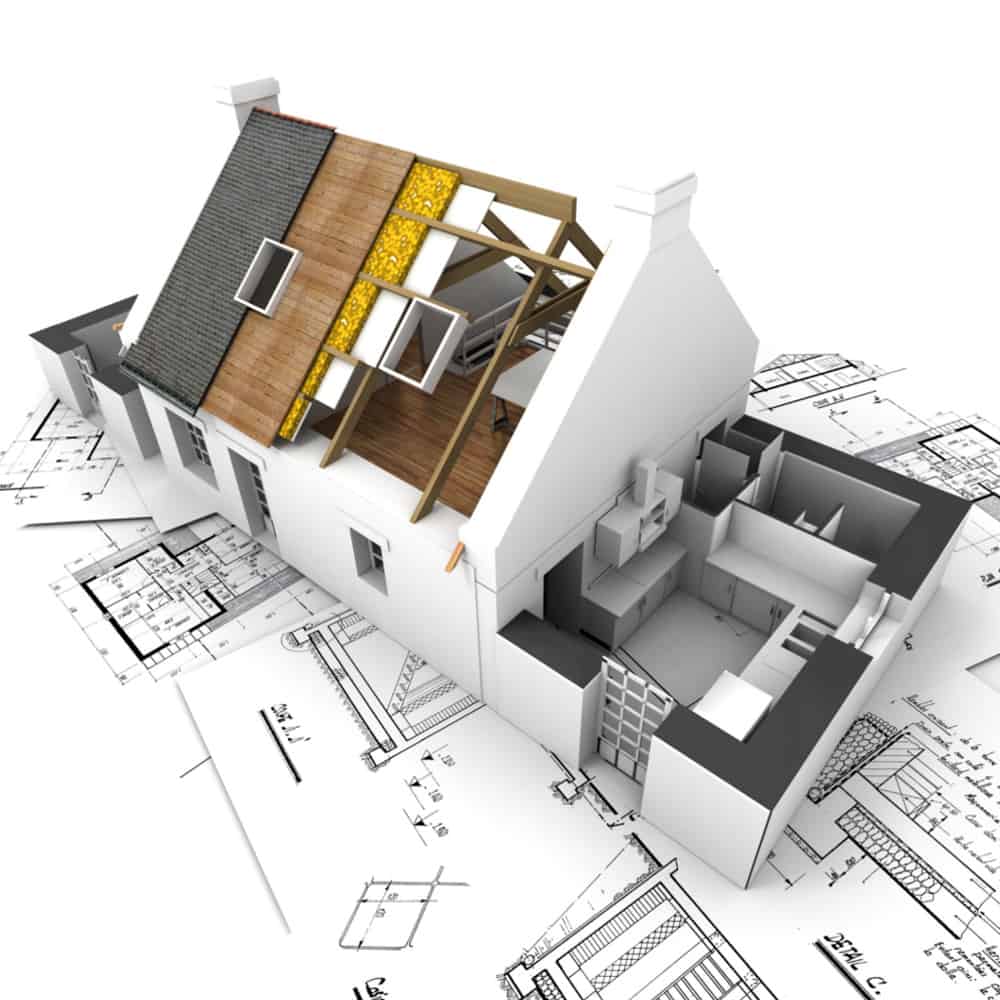 Foundation - Choosing the new foundation for your newly built home is likely one of the most important choices that you'll make throughout the construction process. There are many different types of foundations, including a basement, slab, or crawl space. There are also many different types of tests to run beforehand to ensure the soundness of a particular foundation. These tests help determine the presence of groundwater and other soil quality considerations.
Siding - Another one of the bigger choices to make when building a new home is thinking about the kind of siding that you want to use. There are so many different options to choose from, all depending on your personal preferences and the local environment. You can use wood, brick, vinyl, fiber cement, rock, stone, or a veneer, aluminum, or even log.
Roofing - There are many types of roofing materials available to choose from, as well as colors. Your contractor will be able to help you choose which type of material is best for both the look of your home, as well as local weather patterns and durability.
Set a Timeline for Construction
It's important to have a schedule for construction when building a new home. Yes, problems will arise, but you can account for those in your schedule. You don't want to spend months waiting around when you could be living in and enjoying your new home.
Work out a rough timeline (including certain progress benchmarks) with your contractors and be sure to stop in regularly during construction to check in on things. Be sure to include time for site preparation at the beginning and final touches at the end.
During Construction
Here are the kinds of things you should expect once construction on your new home has started:
During construction, you should expect to stop by the building site for both planned and unplanned inspections and walk-throughs.
Will you want a house wrap? This is a popular option and can help increase energy efficiency.
You should be in constant contact with your builder to give the final okay on many aspects of your home's design and safety features.
You should make yourself available to answer any questions or concerns as they arise.
Be ready to make quick decisions like changes to the HVAC system, choosing different light fixtures, or anything else that could pop up. 
If needed, create a punch list of items you notice that must be completed before construction is done.
After New Home Construction
Once your new home is finished being built, here are the kinds of things that you can expect to do.
A Deep Clean - It's pretty standard when purchasing a home to have it professionally cleaned before you move in. While this might not cross your mind when you are creating a custom home, it's still always a good idea to hire a cleaning company to come through before you start decorating or moving items into the home. This way, there isn't any residual construction dust or debris left in the home and you can truly move in with a fresh start. Once you move in, it can't hurt to vacuum the carpeting again, wipe down the countertops, and give the home another quick clean.
Decorating Fun - One of the most exciting parts about building a new home is not only getting to customize the design and structure of the home but also to have complete control over its aesthetics as well. So have fun! Whether you choose to partner with an interior decorator or rely on your own eye for style, your newly built home is truly the best kind of blank canvas for you to play with.
Moving In - Since you are moving into a brand new home, this might be a good time to pause and take inventory on all the things that you own to see if you want to bring them into your new home with you. You might want to consider discarding older, outdated, or broken items in favor of updating them for newer versions for your new home.
Enjoy the Process
Most of all, remember to enjoy the process of building a new home. This is a once in a lifetime event. It's not every day that someone gets to have complete creative control over the place where they spend the majority of their lives – the place where family memories are made.
While it might seem a bit stressful at times, remember to take a step back to soak it all in.
To help build your knowledge as you prepare to embark on this journey, be sure to read our ebook The Ulitmate Beginner's Guide to Building Your Home. This free, step-by-step guide provides you with the essential information you need to know when building your own home.

Building a new home is a journey. You'll need to make big decisions, face setbacks, and oversee a major but ultimately amazing process. This is because, at the end of it all, you will get to enjoy a custom-built, beautiful home.